Dengue Fever, Zika & Chikungunya Fever
24th August 2017
---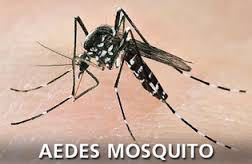 Dengue, Chikungunya Fever & Zika virus is caused by the day-biting Aedes mosquito. The risk increases after the rainy season. Symptoms are headaches, nausea and sore joints, symptoms from Dengue tend to be worse and often require hospitilisation. The best form of protection is using insect repellant with a high DEET content & covering up to prevent being bitten. No vaccine is available. You need to seek medical attention immediately, especially if you are also in a Malaria area. In the vast majority of cases, a full recovery occurs within a month. See www.who.int for details and advice. Those visiting South East Asian countries of Cambodia, Thailand and Vietnam should take care as contracting Dengue Fever is a risk, even on a short visit.
In 2016, Brazil reported a rapid increase in the numbers of cases of the Zika virus and the army was deployed before and during the Olympic games to help combat the outbreak. The latter, whilst generally causing less severe symptons than Dengue, poses a very significant risk to pregnant women & therefore it is essential to seek medical advice before visiting a Zika area if you are pregnant or perhaps planning to get pregnant. A number of cases of Zika have been confirmed in Florida, USA. Cases of Zika in Brazil have declined in 2017, prompting the government to declare the emergency over in mid 2107. However, cases of Chikungunya fever are rising, the US CDC issued a Level 1 health warning for Brazil in late August 2017.
The has been a spike in the number of cases of Dengue in Myanmar during 2017, over 14,000 cases with approximately 80 deaths. A similar rise has occurred in Vietnam and Pakistan in August 2017. Deaths amongst travellers from Dengue fever globally tends to be rare. Fatalities generally occur amongst local people contracting Hemorrhagic Dengue fever having been exposed to a number of strains of the virus previously.
We use cookies to provide you with a better website experience. Close this popup to carry on browsing, or click here to find out more about cookies