South Island New Zealand
4th August 2017
---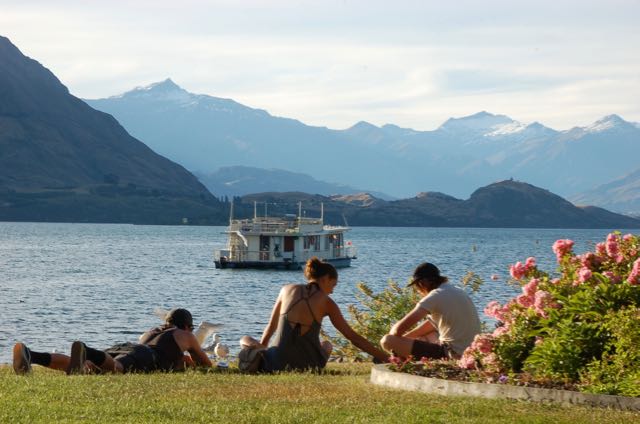 South Island, New Zealand
My first visit to New Zealand, so here are a few thoughts on this quite wonderful country. I flew into Queenstown, where there is a comprehensive check to ensure you are not importing food, mud or animal products, so check before you fly that your walking boots are clean. New Zealand is expensive, on a par with the UK so if you are Backpacking and plan to do activities I would certainly plan on US$50/60 a day. Most hostels charge about NZ$30 (US$20) for a bed in a dormitory.

Queenstown must be the adventure sports capital of the World but we stayed in Wanaka, which is about 100km away. The latter is much quieter than Queenstown and whilst it doesn't have the backpacker draw of Queenstown, it's a much more of a chilled place. Activities include biking, lake swimming, tandem paragliding, canyoning and water skiing. For those not Backpacking, the Lakeside Apartments are an excellent place to stay with a pool and overlooking lake Wanaka. On the road from Queenstown to Wanaka the Cardrona hotel is a good stop for food.

Queenstown offer 3 bungy jumps, including the original AJ Hackett one from the Kawarau Bridge out of town and 'The Ledge' which is the closest to town via the cable car. The highest is the Nevis jump, 134m above the Nevis river. Other activities include white water rafting on the Shotover (best rapids) and the Kamarau rivers, jet boating, sky diving, balloon rides, mountain biking and lots more. Its interesting to note that the safety on the Shotover river was superb but we were all loaded into buses with no seat belts and taken on a 30 min drive along a mainly single track gorge road with hairpin bends and ravines the whole way. I did the Sun Rise Balloons trip which was terrific. An early start at this time of year, had to meet at 05:15 but so well worth it. The trip last about 1½ hours, went to a height of about 5,000 ft and gently drifted about!

If you go to Milford Sound you will base yourself out of Te Anau. It's a spectacular drive to Milford Sound, allow 2 hours and book onto a cruise. I strongly suggest Mitre Peak cruises as it's the best operation, is a smaller boat and doesn't seem to be used by the mass tourist operators (who seems to have captured the entire population of China). Its often wet at Milford Sound, on average it rains every 3rd day so plan to get wet but hopefully you will be lucky and have glorious weather. You can combine a trip to the Underwater Observatory, not a huge amount to see but if you are interested in marine life, especially Black Coral, its worth it. On trip we saw Dusky Dolphins and Fur Seals.

Last thought, do check out to see if there is a rodeo on at Te Anau, superb to see as it's a very local experience (no other tourists there) with bull riding, barrel horse racing, lassoing and bull wrestling. Hard core madness!

Kaikoura is famous for marine life. The Swimming with Seals is quite excellent and NZ$80 per person. It's a slick operation, you get given a 5mm wetsuit complete with hood as the water temperature is a barmy 17c. You can get so close to the seals, do bring GoPro if you have one. Other activities include Whale Watching and swimming with dolphins. For those Backpacking the Albatross Hostel seems very good.
Lastly visted Christchurch which has had the gut of it taken out by the 2010 and 2011 earthquakes. So much of the centre has gone, just car parks where 19 and 20th century building once stood. It will be decades before it fully recovers.

We use cookies to provide you with a better website experience. Close this popup to carry on browsing, or click here to find out more about cookies