Travel in Vietnam
22nd November 2019
---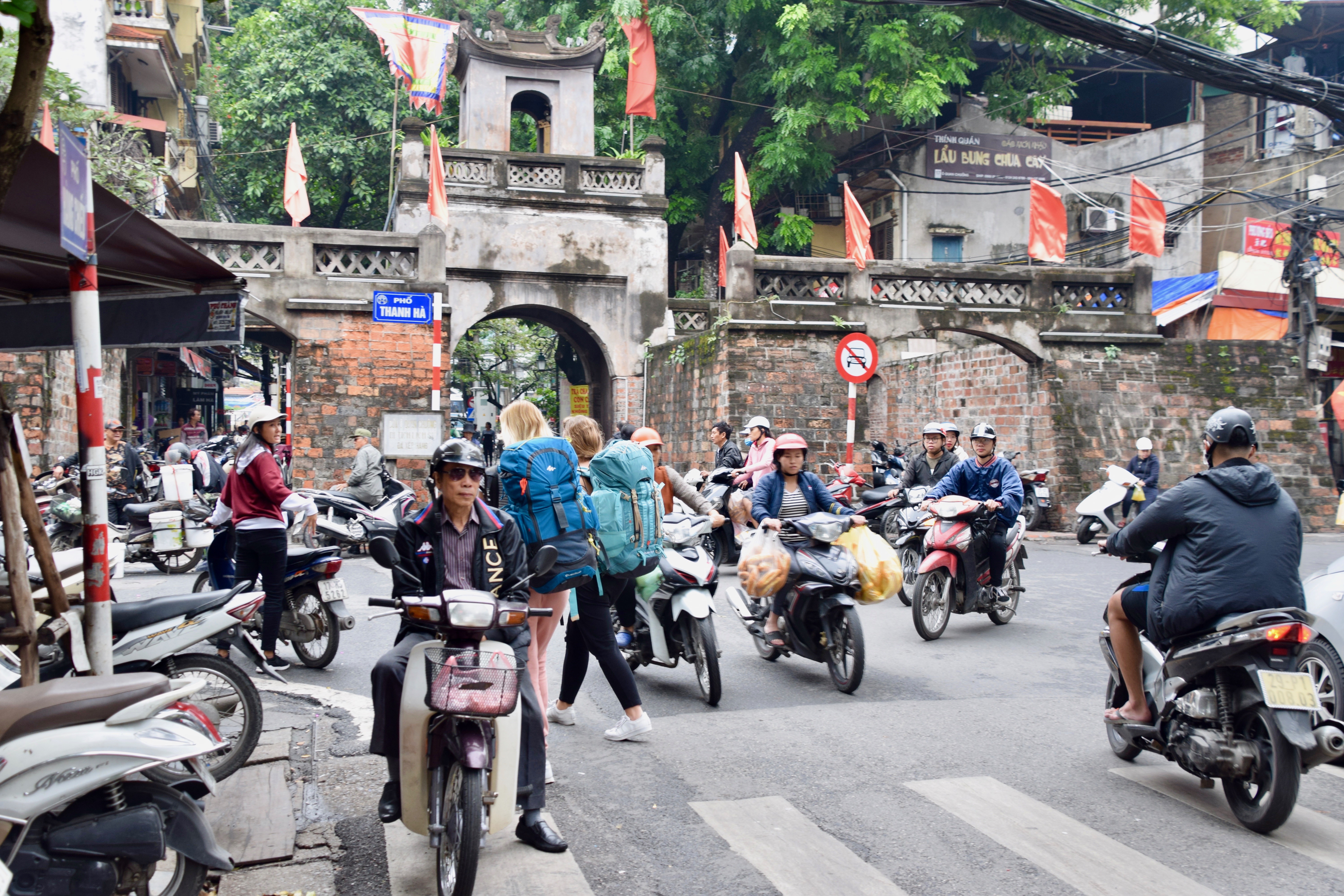 Vietnam visit – October 2019
I went to Vietnam for a very brief fact finding tour to gather information to help our gap year students plan their travels in this wonderful country. I have previously visited Laos, Thailand and Myanmar (Feb this year) so I was keen to see why Vietnam rated so highly. I travelled as a gap year student, staying in dormitories in hostels and getting about by bus and train. Whilst in Saigon I had a very useful meeting at the British High Commission. I say Saigon as I didn't see a single bus or train timetable or indeed a local person refer to it as Ho Chi Minh.
Its apparent that Vietnam is changing fast, Chinese investment is clearly visible especially in the coastal resorts and I do worry that many historic buildings and some stunning countryside will fall foul of the drive for commercial success. But on the positive note, the people are generally delightful, it's the best budget food I have ever experienced and there is so much to see. I didn't have time to go to Sapa region in the north west or Halong Bay, but by all accounts the former is a must, the latter maybe is a little over visited but still spectacular. Do check the weather. I knew if was at the end of the rainy season as boy did I see some rains. Weather wise the best time to visit is mid November through to April or May.
I felt very safe in Vietnam and I was happy to walk out with a telephone in my pocket, which I simply would not do in most of the Latin American cities. The British consulate had some useful advice. I asked Karen Gibbons what the main dangers young travellers faced, her reply; motorbike accidents and tainted drugs. On the latter, its not the threat of being arrested its taking drugs with dangerous substances in them. A British traveller died in this manner last year.
So onto motorbikes. I did the trip from Hue An to Hui via the Hai Van pass but on the back of an experienced rider's bike. I used an excellent company called Adventure Motorbikes who were excellent and we had my rucksack strapped to the back of the bike. Karen Gibbons explained the majority of accidents happen to inexperienced riders hiring their own motorbikes along with a 'toy' helmet. Whilst it's not really being enforced, as of March this year to legally drive a motorbike over 50cc you have to have an international motorbike driving license. One of the reasons I went on the back of someone else's bike was that it was extremely wet and therefore the road would be and was very slippery. If do you plan to tour Vietnam on a motorbike do ensure you have done as a minimum a CBT course in the UK, know how to ride a motorbike and bring your own helmet. Of note, the cost of my one day tour from Hui An to Hue was $36. But let's be clear, it's a very dangerous activity as the road is very busy with trucks, petrol tankers and loads of other motorbikes and cars.
In Saigon I stayed at the Prei Nokor Hostel. The hostel is situated at the back of a coffee shop and is opposite the Ben Thanh market. A number 152 bus from the airport drops you about 200m away for a princely fee of about $0.50. The hostel is small and well managed; its major draw back is a lack of a common seating area. A dormitory bed was around the $6 mark. They recommended a quite excellent local restaurant called Bep Me In, 136/9 Le Thanh Tom. Most of the bars and clubs are in Bui Vien street which is a 10 minute walk. There isn't a huge amount to see in the city but its good for just wandering. The War Remnants museum is certainly well worth a visit but not a cheery experience as there are some vary graphic and gory photographs. It covers the period of the war against France in the late 1950s through to the end of the Vietnam War (known locally as the American War) in 1975. If this city is your first in Vietnam you will quickly need to learn how to cross the road. If you plan to wait for the scores of motorbikes to stop, even at a pedestrian crossing, think again or you will die of old age on the side of the road. To cross, just walk slowly in a straight line and the traffic can judge your path and go around you.
My next stop was Da Lat known for its adventure sports. I took a night bus, FUTA lines (orange buses) which was excellent. The night bus had beds each with a curtain, light and USB charging socket. The cost was about $12. Later in my trip I took another night bus from Hue to Hanoi using a different company that was awful so stick to FUTA lines. Da Lat, whilst larger that I had imagined, has a hill station feel to it. You can go canyoning (safety massively improved since 3 deaths a few years ago), walking or mountain biking as I did. There are masses of hostels to stay in and adventure companies offering a range of activities. An Café is good for breakfast.
I was in a rush so I bused onto Nha Trang which is a busy but a rather joyless beach resort. However if you plan to improve your Russian head there. On the up side it does have some good restaurants but its certainly not a back packers destination. The prime reason for going there was to take the train to Da Nang which was a relaxed 8 hour experience. The trains are comfortable but not necessary very good at time keeping and there are perhaps 2 or 3 options per 24 hour period. The cost was approximately $12. There are also some good sleep train options; Hue to Hanoi, Da Nang to Saigon. One advantage of the train is the stations are in the centre of towns/cities whereas, for example, the Hanoi main bus station is 9km outside the old city so another bus or taxi is needed to get into the city centre. Da Nang has good beaches (the US Marines came ashore here in March 1965 as the first combat troops) but has little else to offer and most people head onto Hui An some 20 Km to the south.
The coastal towns of Hui An and Hue are well worth a visit, especially Hui An. It has a vibrant back-packer feel, is small and a good place for relaxing. It littered with tailors if you want to get some clothes made, has some interesting but not that old buildings to see and good shopping with a thriving market and loads of shops. I can thoroughly recommend Backhome hostel, 39 - 41Ba Trieu, Phoung Cam Pho. Its really more like a hotel than hostel with loads of rooms and dormitories, a spacious bar and a spacious common seating area. My 4 person dormitory cost $4. Hui An has a plethora of bars and a huge range of restaurants. It is busy, the Chinese and Japanese tours companies have certainly found it as a destination as its particular spectacular at night light up by lanterns.
Hue is certainly less of a happening town but the old imperial palace is well worth a visit. It was nearly destroyed in the American War but is gradually being restored. It's a large site so plan a few hours to see it all. In Hanoi the hostel Backpackers Central comes well recommended and is well positioned in the heart of the Old City.
How much does one need to budget. I would say about $30/35 per day. So much depends on the amount of activities you are planning as these can be expansive with prices fueled by the arrival of mass tourism. A day trip doing canyoning, mountain biking or motor biking will probably cost between $30 to $50 but a museum or palace entry around $1 to $2. Dormitory beds in hostels are $5 and a meal maybe about the same. An overnight bus trip about $10 or $12. So working on the assumption that one does a significant activity every 3 or 4th day I believe a budget of $30/35 should be sufficient. However if one in planning to have a relaxed day doing very little then one can get by on $10/15 for the day.
I would plan for a minimum of 2 weeks in Vietnam. If you stay under 15 days as a UK citizen you don't need a visa. But you will need proof of departure. If you are staying between 15 and 30 days you can get an e-visa and a full tourist visas is needed for more than 30 days.
We use cookies to provide you with a better website experience. Close this popup to carry on browsing, or click here to find out more about cookies